An Independence from Europe; will they ruin UKIP bets?
|
Most voters will find a number of parties and candidates they have never heard of on their ballot papers for the European elections next week. Voters in England will find that the option at the top of their ballot is "An Independence From Europe" with the tagline "UK Independence Now". UKIP will be at the bottom of most ballots, due to standard alphabetical ordering.
There is some fairly robust evidence indicating that the higher up the ballot a candidate is, the more votes they will get. So, how well will these guys do?
One point to make is that this isn't just a spoiler unlike the infamous Literal Democrat party. An Independence from Europe is fronted by Mike Nattrass, an existing MEP who defected from UKIP. However, UKIP are understandably concerned that a lot of voters will mistakenly pick the top option, assuming they are voting for Farage et al.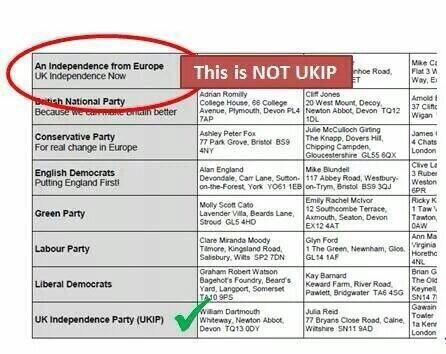 Ladbrokes have a vote line bet up for An Independence From Europe – we're guessing that they will get around 1.5% of the vote and you can bet on them getting either over or under that mark. The bets we've taken up to now indicate that most political punters think they'll go over. With the polls mostly indicating a fairly tight race, this could easily scupper bets on UKIP to get the highest UK vote share. Of the last numbers published by five pollsters, three have UKIP ahead but two of those are by just 2%. So it is a very live possibility that the current 1/2 favourites will get turned over as a result. Which would be good news for bookies.