Where does Suarez rank in the list of ultimate nutmegs?
|
After a night in which Barcelona's Luis Suarez managed not one but two rather cheeky nutmegs on Paris Saint-Germain defender David Luiz, we are asking you to rank your favourite incident involving this particular piece of skill from over the years.
Always keen to promote diversity, our selections include everything from Lionel Messi to Steve Guppy, so take a look at all the options and then vote on your favourite below.
Suarez v Luiz
The former Liverpool favourite appears to be getting better and better at Barcelona with last night's nutmeg-inspired two-goal haul against PSG arguably his finest hour for the Catalans to date.
Messi v Milner
Manchester City's Mr Dependable found himself the butt of the jokes after the Blues' second-leg defeat to Barca last month, with Messi the instigator thanks to a delicious nutmeg that had Pep Guardiola purring from the stands.
Redondo v Berg
A season after the Red Devils claimed a sensational treble, Real Madrid's often forgotten Argentine made the European Cup holders look ordinary with a nutmeg that went some way to setting up a decisive goal for his Los Blancos teammate Raul.
Mata v Albiol
Training ground goals count for nothing, but when it comes to nutmegs there is still something special about pulling off this kind of trick against one of your teammates. Manchester United renaissance man managed just that against Raul Albiol and it was glorious.
Riquelme v Yepes
The Argentine may have failed to make the grade at Barca, but he remains a Boca Juniors legend with this fine piece of footballing tomfoolery on Mario Yepes in a Superclasico encounter with River Plate particularly pleasing on the eye.
Guppy v Rowett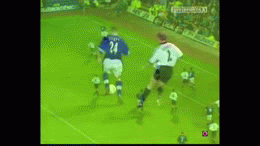 One for the Leicester City fans out there, Steve Guppy may not have ultimately been the solution to England's left wing problem at international level but he was still responsible for arguably the filthiest nutmeg in Premier League history during a league encounter with Derby.
[poll id="148″]
All Odds and Markets are correct as of the date of publishing.
Fancy a flutter? Sign up today to claim up to £25 in free bets.